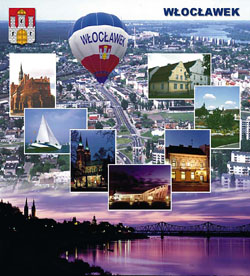 Włocławek
The capital of Kujawy (Kuiavy), Włocławek, is a city of 125,000 people situated on the Vistula river and its left tributary, the Zgłowiączka. Centrally located, it is intersected by major roads and railway routes of national and international importance. They connect northern Poland with the south of the country (Gdańsk-Włocławek-Cieszyn) and the east with the west (Terespol-Warsaw-Włocławek-Kołbaskowo).

Włocławek is an important industrial centre and the service base for the surrounding agricultural region. Today the best developed sectors of the local economy are the chemical and metal industries, electromechanical engineering, ceramic production, and agro-industry. The largest companies operating in Włocławek include ANWIL, one of the biggest Polish producers of polyvinyl chloride and nitrogenous fertilizers, NOBILES, a manufacturer of paints and lacquers, and DRUMET, a producer of metal rope and wire.

Włocławek is also a very interesting city in terms of architecture – it has many unique monuments. In addition, its administrative area includes the Kulin Nature Reserve. The surroundings offer tourist attractions as well, notably the Gostynin-Włocławek Landscape Park, the Vistula Lagoon with its harbour for passenger boats, and the magnificent panorama of the Szpetalskie Hills.

The city has plenty of real estate offered for development.