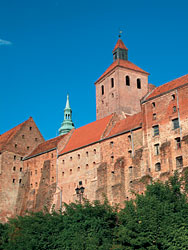 Grudziądz
Grudziądz lies at the heart of Pomorze Nadwiślańskie region, on the right bank of the Vistula, half way between the sea ports of Gdańsk and Gdynia and large urban areas in Kujawsko-Pomorskie voivodeship, such as Bydgoszcz and Toruń. The city is situated along the shortest tourist route which connects Poland's western border crossing points with the Great Lakes District – Warmia and Mazury, a factor which significantly contributes to the growth of the local business and tourist arena.

The A1 motorway connecting the Scandinavian Peninsula with southern Europe as well as the Poznań-Bydgoszcz-Grudziądz-Olsztyn expressway with access to the Baltic States and the Kaliningrad Region will be built in the direct vicinity of Grudziądz's administrative boundaries. The city is also taking part in the project related to the construction of a ring road which will modify the local transportation system by limiting vehicle traffic in downtown areas. The project was approved by the European Union which has provided the local authorities with a grant of PLN 65 million for the undertaking.

Lakes occupy 1.3% of the Grudziądz Basin area and diversify the local surface water system. The largest lake is Wielkie Rudnickie with an area of 188 hectares in the southern, wooded part of Grudziądz. The lake and Grudziądz's historical monuments are the main tourist attractions in the region which bring thousands of visitors each year to the city's numerous tourist and recreational sites.

At the end of 2005, Grudziądz embarked on a new phase of development – hot brine springs in the village of Marusza, considered to be a top-quality water source whose properties outweigh Poland's best-known spas, will be managed as part of an extensive project. In the nearest future, the undertaking will radically change the city's image and will place Grudziądz on the spa map of Poland and Europe.