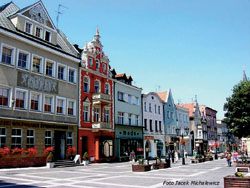 Zielona Góra
Situated in Central-West Poland with nearly 120,000 inhabitants, Zielona Góra is one of the most rapidly developing urban centres in the country.

This seat of the local self-government of Lubuskie Voivodeship, the municipal borough is developing into a buoyant economic, administrative, cultural and educational regional center. Other state institutions e.g. The Local Government Assembly of Lubuskie Voivodeship, Marshal's Office, Municipal Borough Office and Provincial Labour Office are all located in the area.

Two schools of higher education, Technical University of Zielona Góra and Higher Teachers Education School, merged in 2001 forming the University of Zielona Góra which educates approximately 23 thousand students.

The city has many advantages, and its location is one of the most popular. It takes only 40 minutes to reach the German border by driving to Brandenburgia. The route connecting the sea ports of Świnoujście and Szczecin with Wrocław and Prague intersects the city. The distance to Poznań is quite small – 132 km and to Berlin – 180 km. Border crossings in Lubuskie Voivodeship are located in Świecko and Słubice, Gubin, Gubinek and Olszyna they receive 80% of the national transit traffic East-West.

In the competition organized by a daily Rzeczpospolita and Regional Surveys Centre, Zielona Góra was among top ten cities with a status of a municipal borough (the 10th place) with the greatest potential for development.

Apart from its economic advantages, Zielona Góra is firstly a most pleasant place to live, work and relax. The city is clean, full of greenery, surrounded by forests and contains many cultural and recreational facilities which are frequented by tourists, not only during the Wine Festival. Many people come here from other regions of Poland and even from abroad to settle permanently in this hospitable and beautiful city.