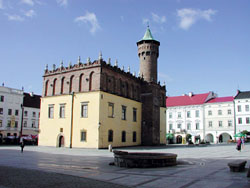 Tarnów
The city of Tarnów is the second largest conurbation after Cracow in the Małopolskie Voivodeship. Its location on the crossing of important European trade routes is an undeniable advantage. The E4 international route (Zgorzelec-Wrocław-Katowice-Cracow-Tarnów-Rzeszów-Medyka) crosses a national road that leads from Warsaw to Kielce, Tarnów and to Konieczna (Polish-Slovakian border crossing). A railway line Cracow-Medyka has risen to a rank of a transeuropean railway trunk line. It joins a railway line going southwards to Nowy Sącz, Muszyna and further to the Slovak Republic and Hungary.

Excellent location of Tarnów inclines investors to place logistic centres there; such centres have been already realised by Goodyear, Ahold, Roleski and Wincanton. The closest airports handling international flights are located in Balice near Cracow (90 km). In the near future the city will be intersected by A4 motorway with a junction situated in the vicinity of the north-western border of the city.

The attractiveness of Tarnów is enhanced by the proximity of border crossings: 180 km to the border of Ukraine, 110 km to the border of Slovakia, and 500 km to Germany. This allows companies to reach, such European capitals as: Berlin, Bratislava, Budapest, Kiev and Prague within one day.

Tarnów is a widely known economic center, especially in the chemical and artistic and usable glass-making industries. Tarnów also benefits from its cultural life and places of historical interest. The remarkable beauty of the Old City, where the medieval layout of narrow streets has survived until presentday, there are gothic and renaissance buildings and, last but not least, the ancient spirit of Galizia which distinguishes old castles in the south from those built in the remainder of the country makes Tarnów even more attractive.