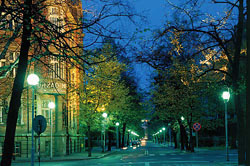 Siemianowice Śląskie
Siemianowice Śląskie is located in the centre of Upper Silesia. It constitutes an important junction in the transport network connecting the municipalities of Katowice, Chorzów, Czeladź and Piekary Śląskie. Owing to its industrial base, good consumer market and very convenient location (access to major roads, proximity to the Slovak and Czech borders, the airport at Pyrzowice 20 km from the town centre), the town is an attractive place for investors.

In spite of its industrial character, Siemianowice Śląskie fully deserves the name of a GREEN TOWN. It has beautiful parks with old trees, numerous public gardens and grassy squares. The historical Municipal Park and its mansion awaiting renovation, rank among the most beautiful places in the town.

In addition, Siemianowice Śląskie has two modern sports complexes, namely the "Michał" Sports Complex - with a swimming pool, jaccuzzi, sauna and a handball court, as well as the "Siemion" Sports Complex with an artificial surface playing ground for field hockey events. There is also a Golf Course, a Hunter's Rifle Range and a most modern bowling alley.

The image of the town has been changing quickly in recent times. Most of the large enterprises based in the town have been privatized or are being restructured. Today there are more than 5,000 mostly private business entities operating in the town.

Siemianowice Śląskie is open not only to Polish investors, but also to foreign ones. It offers plenty of land and buildings for business use. Detailed information on investment opportunities in the town is available from the Property Management Department of the Municipal Office.