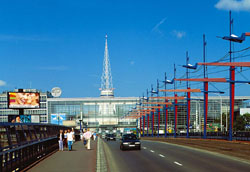 Poznań
Poznań, the capital of Wielkopolska and the fifth largest city in Poland, is the largest industrial, commercial, cultural and academic centre in central-western Poland, and an important finance and business centre.

Poznań's investment attractiveness, confirmed by its high ranking among other cities and communes, is an incentive for investors, who undertake various projects in the city. Poznań is rated second after Warsaw among the cities most attractive to investors. In 2004, Poznań was given the number one ranking among cities with over 100,000 inhabitants in the category of "Professional Communes Friendly to Investors". In 2005 Poznań was ranked the first in the best communes ranking prepared by "Rzeczpospolita"daily.

Poznań's main advantages include its size, convenient location, developed business services, advanced technical infrastructure, high-quality labour market, favourable investment climate, and the local government's marketing activity.

Since 2001, the international rating agency Moody's Investors Service gave the city of Poznań a Baa1 rating.

The value of direct foreign investment made in Poznań between 1991 and 2003 amounted to USD 3,500 million. Among the biggest foreign investors are: Allied Irish Bank, Beiersdorf, Bridgestone, GlaxoSmithKline, Nestle, Pernod Ricard, SABMiller, Volkswagen, Wrigley. In as far as investment branches are concerned, the dominating are industry (mainly food processing, pharmaceutical and automotive industry), trade and services (particularly financial and insurance services).