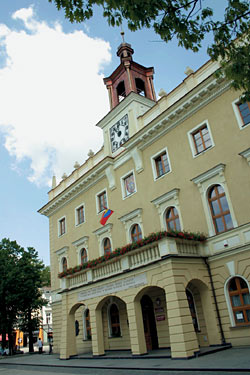 Ostrów Wielkopolski
Inhabited by over 73,000 people, Ostrów Wielkopolski is the capital of the Ostrów District and an important economic, educational, cultural and sports centre of Southern Wielkopolska.

A convenient geographic location, well-developed infrastructure, business support organisations, favourable climate for new projects and a well educated workforce make Ostrów Wielkopolski a highly attractive location for investors.

The Wielkopolskie Province planners consider Ostrów a place where a centralisation of urban processes is most likely to occur. Thus, Ostrów Wielkopolski is predicted to further develop its technical and financial infrastructure, become home of several industries and attract new investors.

The local authorities' priority goal is business growth and support for entrepreneurship. To achieve the above, Ostrów Wielkopolski's City Council adopted a resolution on real estate tax concessions for businesses launching operations in the city. Besides, the Town Investment Offer Database has been created to provide investors with information on the town's investment potential.

Ostrów Wielkopolski invites all new investment proposals. The city has on offer a variety of attractive properties suited for the development of industrial plants, an aquapark and an ice rink. We are open to negotiations with prospective investors.


Ostrów Wielkopolski - urban commune

---

Local authority: Urząd Miejski w Ostrowie Wielkopolskim
Address: al. Powstańców Wielkopolskich 18, 63-400 Ostrów Wielkopolski
tel. (+48 62) 5822400, 7366241
fax (+48 62) 7366407, 5918206
e-mail: um@ostrow-wielkopolski.um.gov.pl
website: www.ostrow-wielkopolski.um.gov.pl




---

Managing staff
Mayor: Jerzy Świątek
tel. (+48 62) 5822130, 7364310
fax (+48 62) 7366407
e-mail: um@ostrow-wielkopolski.um.pl

Deputy Mayor: Andrzej Jaroń
tel. (+48 62) 5822114, 7366450
fax (+48 62) 7366407
e-mail: jaronandrzej@ostrow-wielkopolski.um.gov.pl

Deputy Mayor: Bolesław Kowalczyk
tel. (+48 62) 5822127, 7360983
fax (+48 62) 7366407
e-mail: bkowalczyk@ostrow-wielkopolski.um.gov.pl

Secretary: Henryk Zieliński
tel. (+48 62) 5822129, 5822130
fax (+48 62) 7366407
e-mail: um@ostrow-wielkopolski.um.gov.pl

Treasurer: Janina Frączek
tel. (+48 62) 5822217
fax (+48 62) 7366407
e-mail: finanse@ostrow-wielkopolski.um.gov.pl

Town Council Chairman: Lech Topolan
tel. (+48 62) 5822406, 7364716
fax (+48 62) 7366407
e-mail: um@ostrow-wielkopolski.um.gov.pl



---

Major departments
Mayor's Office
Director: Henryk Zieliński
tel. (+48 62) 5822129
fax (+48 62) 7366407

Finance Department
acting Director: Danuta Czajka
tel. (+48 62) 5822233
fax (+48 62) 5918206

Civil Affairs Department
acting Director: Andrzej Baraniak
tel. (+48 62) 5822103
fax (+48 62) 7366407

Business Activity Record Section
acting Manager: Marek Dziamski
tel. (+48 62) 5822117

Educational Department
Director: Paweł Rajski
tel. (+48 62) 5822203
fax (+48 62) 5918206
e-mail: edu@ostrow-wielkopolski.um.gov.pl

Physical Culture Department
Director: Stanisław Kryjom
tel. (+48 62) 5822307
fax (+48 62) 5918206
e-mail: wkf@ostrow-wielkopolski.um.gov.pl

Culture and Arts Department
Director: Andrzej Leraczyk
tel. (+48 62) 5822330
fax (+48 62) 5918206
e-mail: kultura@ostrow-wielkopolski.um.gov.pl

Municipal Services Department
acting Director:
Włodzimierz Szymanowski
tel. (+48 62) 5822206
fax (+48 62) 5918206
e-mail: wgk@ostrow-wielkopolski.um.gov.pl

Architecture and Urban Planning Department
acting Director: Lucjan Kołodziej
tel. (+48 62) 5822223
fax (+48 62) 5918206

Environment Protection Department
acting Director: Bogdan Derbiszewski
tel. (+48 62) 5822238, 5822218
e-mail: wos@ostrow-wielkopolski.um.gov.pl

Land Surveying and Property Management Department
Director: Monika Jeż
tel. (+48 62) 5822224
fax (+48 62) 5918206

European Integration and Promotion Department
Director: Iwona Matuszczak-Szulc
tel. (+48 62) 5822313, 5918114
fax (+48 62) 7366407
e-mail: prom@ostrow-wielkopolski.um.gov.pl
e-mail: integracja@ostrow-wielkopolski.um.gov.pl

Official responsible for tenders
Krzysztof Harych, acting Public Tenders Unit Manager
tel. (+48 62) 5822326
fax (+48 62) 5918206

Promotion Manager
Iwona Matuszczak-Szulc, European Integration and Promotion Department Director
tel. (+48 62) 5822313, 5918114
fax (+48 62) 7366407
e-mail: prom@ostrow-wielkopolski.um.gov.pl

Investor's first-contact
Iwona Matuszczak-Szulc, European Integration and Promotion Department Director
tel. (+48 62) 5822313, 5918114
fax (+48 62) 7366407
e-mail: prom@ostrow-wielkopolski.um.gov.pl
e-mail: mboi@ostrow-wielkopolski.um.gov.pl



Ostrów Wielkopolski

- page
1 of 17
<<
>>