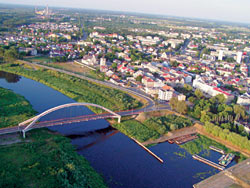 Ostrołęka
Ostrołęka – is situated in the north-eastern part of Mazowsze region on the river Narew. It occupies an area of 29 sq km and has the population of around 55,000. Ostrołęka is an important point on the map of Poland as a major road and railway hub at the crossroads of traffic routes leading from southern and central Poland to Mazury Lake District (domestic road No. 53) and from Poland's eastern border to the west (domestic road No. 61).

Ostrołęka, a city with county rights, is a modern business, academic, cultural and sports centre. Its history and traditions date back 633 years and were the venture point for creating Ostrołęka's development strategy at the beginning of the 21st century: Ostrołęka – a self-governing and entrepreneurial city which is faithful to tradition, open to people and business.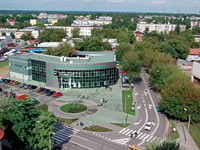 In an effort to cater to growing business needs in the city, so-called Business Development Zone was created. Building of the city ring road, co-financed by European Union funds within the Regional Development Programme, will result in acquiring new investment areas.

Ostrołęka has the following strengths that make it an attractive location for investors:

- real estate tax concessions for businesses launching production or service operations in the city,

- stable and cheaper labour market than in other parts of the region,

- attractive prices of land for business investments and housing in comparison with the neighbouring Warsaw urban area,

- full media availability: gas, water, sewerage, power, heat (the city hosts the Ostrołęka Power Plant Complex SA),

- high development potential that supports the food processing industry,

- very active community of business support institutions.