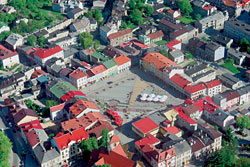 Chrzanów
The Chrzanów commune (79.33 sq km) is situated in the southern part of Poland, in Małopolskie Voivodeship (Lesser Poland), at the borderland between the Silesian Upland and Krakowsko-Częstochowska Upland, on the left-bank tributary of the Vistula – the river Chechło.

The commune consists of more than 40,000 inhabitants of the town of Chrzanów and the village administrative units – Balin, Luszowice, Pogorzyce, Płaza, Źrebce i Okradziejówka. Chrzanów borders on the communes Jaworzno, Trzebinia, Libiąż, Babice and Alwernia.

The advantage of the Chrzanów commune is its location in the south-west part of Małopolskie Voivodeship, along the A4 motorway, midway between Katowice and Cracow (access through A4 motorway: from Katowice – exit No. 371 and from Cracow – exit No. 373).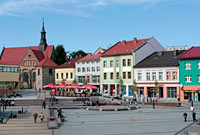 A convenient location of the town, at the crossing of the main communication routes and the openness of the local government authorities, create a favourable climate for business activities. The town's authorities provide investors with assistance at the start of business activity, they are open to co-operation and initiate undertakings promoting the town.

Chrzanów has a developed municipal infrastructure and free land for the environment-friendly industry, craft, bases, storehouses, warehouses and housing construction.

More than 4000 economic entities are running business in Chrzanów, but most of them are small and medium sized companies providing trade, general construction, installation, transport services and other services related to real estate and financial consulting.

In Chrzanów also operate 23 companies with foreign capital, among others: Hydro Aluminium Chrzanów (aluminium profiles manufacturer), Polmar (polystyrene foam manufacturer), Ocynkownia "Śląsk" (hot-dip galvanizing), Dan Cake (cakes), Picchi Qualita (producer of textiles), Valeo Lightings System (producer of automotive lighting systems).