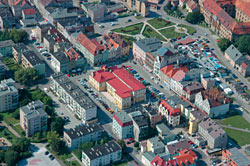 Żary
Żary is a district capital town of 40,000 people located in the south-western part of Lubuskie Voivodeship, about 20-40 km from Polish-German border crossings for road traffic. Location at the junction of major national roads No. 12 and 27 and not far away from A18 motorway makes the town very attractive for investors.

Home to many industries, the city has a considerable economic potential. The dominant lines of business are the glassworks industry (Saint Gobain Sekurit HanGlas, Saint-Gobain Euroveder and Hart-SM) and the building materials industry (Kronopol). Żary is also the headquarters of Relpol, a relay manufacturer listed on the Warsaw Stock Exchange. The biggest investment power is Swiss, French, Italian, German and Dutch capital. Over 4,500 small and middle-size businesses, many of them family-owned, are also playing a vital role in the city's economy.

Żary offers a comprehensive business background. The city is home to eight bank branches, several insurance agencies and the Enterprise Foundation (Fundacja "Przedsiębiorczość"). Secondary schools and the Lusatian Academy of Humanities provide educational opportunities.

Żary has a modern municipal infrastructure, including a sewage treatment plant, a waste dump, and a new water purification plant. In 2005, the last section of Żary ring road has been opened to use. There is also a newly opened complex of indoor swimming pools and bowling alleys, and a new sports hall is just being built. Meanwhile, the gas, heat and water supply systems and the sewerage system are being modernized.

The town of Żary offers many attractive investment areas. Their current list and are available at two websites: www.zary.pl.