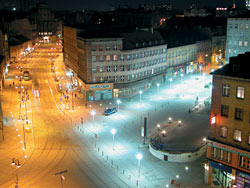 Zabrze
Zabrze is a city located in the west of the Silesian Region with approx. 188,000 inhabitants. It is one of the five largest cities in the Silesian Region.

Currently, following the decline in mining activities, the town's economy is dominated by a strong chemicals industry, by the manufacture of electrical machinery, construction, and by the rapidly developing service industry sector. Many important scientific and medical institutes, such as the Institute of Basic Environmental Engineering, the Institute for the Chemical Processing of Coal, the Polymers Institute of the Polish Academy of Sciences, Institute of Medical Technology and Equipment, the Prof. Zbigniew Religa Institute of Heart Implants, the Silesian Heart Disease Centre, and the Silesian Centre of Pediatric Medicine. University level educational institutes include the Physician and Dental Faculties of the Silesian Medical Academy and the Management Faculty of the Polytechnic of Silesia.

Zabrze has excellent facilities for secondary education, including general secondary schools, art schools, and vocational schools. It offers a wide range of cultural and leisure activities, thanks to the presence of the New Theatre, the National Philharmonic, the Municipal Museum, the Sports Centre, the Music and Dance Centre, and the Museum of Coal Mining, which includes two unique open-air museum sites, "Królowa Luiza" and "Guido".

The town has land available for service industries and construction of residential buildings, as well as buildings for sale or rent. All land and buildings offered for sale or rent are easily accessible from the rest of the region. The existing road network and the motorway A4 running through Zabrze will soon be enhanced by the Interurban Road and motorway A1 linking north and south of Poland.