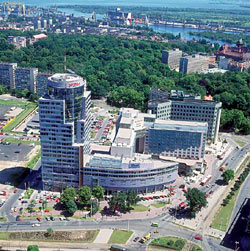 Szczecin
Szczecin, the capital of Zachodnie Pomorze (Western Pomerania) region, is the most north-westerly large city in Poland. With a population of 415,000 it has the area of 300.8 square kilometres.

Situated on both banks of Odra river at the distance of 65 km from the Baltic Sea coast, Szczecin and Świnoujście form a leading sea port which marks the crossroads of transit routes between Western Europe, the Baltic states, Scandinavia and Southern Europe.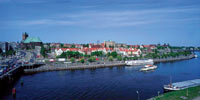 Szczecin is one of the few Polish cities which are conveniently connected to the motorway network of Western Europe, including the A6 freeway to Berlin and route No. 3 to Southern Europe linking the city with international airport in Goleniow (45 km from Szczecin).

Szczecin's prime location at the crossroads of various transport routes and its access to sea ports make it the ideal logistics hub for the international transport system.

Due to its location, Szczecin has a visible impact on the historical regions of Pomerania and Brandenburg (Germany) as an important centre of political, social and cultural co-operation between the local authorities of Poland, Germany and Scandinavian countries. The city is the unquestioned leader in the Pomerania Euroregion in the Polish-German border zone.

Szczecin is an attractive location also in view of its unique natural environment which creates a vast potential for business, tourism and cultural development in the region.