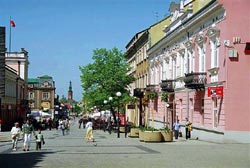 Radom
Radom is the second largest urban centre in the Mazowsze region (after Warsaw). Radom's population is approximately 230,000 people and it covers the area of 112 sq km. One of the most important advantages of the city is its favourable location - at the intersection of main communication routes and less than 80 km away from the Warsaw agglomeration. Radom boasts a well-developed scientific and research background as well as an efficient network of business assisting institutions.

Urban development projects refer to the already existing special economic zone as well as to those areas which have been specially designed for new investment by Radom's authorities. The investment area covers around 60 ha and the future investors are granted various concessions and preferences. Those incentives result from Polish regulations concerning public aid, which may cover up to 65% of investment expenses. Depending on the number of newly created jobs, entrepreneurs may receive property tax concessions for up to 5 years.

There is a special Investor Service Centre (e-mail: coi@magistrat.radom.pl), providing practical assistance for new investors in the Radom City Hall. It helps them locate new investments as well as deal with all the relevant civil law procedures.

So far Radom has been chosen for investment by various American, German, French and Japanese companies. Local authorities, who are favourable towards new undertakings, expect to establish co-operation with new investors. They are especially interested in the construction and management of the Civil Airport, Logistics Centre and Technology Park.

Undertakings of Radom's local government have been acknowledged by the jury of the "Fair Play Community" and "Professional Community, Friendly to Investors" competitions. Furthermore, its City Hall has undergone an external audit, receiving the PN-EN 9001:2001 certificate.