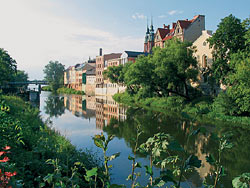 Opole
Opole, the capital of Opole Voivodeship, serves as a local industrial, trade, banking, administration, science and cultural centre. The city is located on the Germany-Ukraine route, 14 km off the A4 highway that links the city with Western and Eastern Europe. National roads provide convenient communication with other regions of the country.

Opole has good railway connection with Western (Berlin, Hamburg) and Eastern Europe (Kiev) as well as domestic ones (Warsaw, Wrocław, Kraków, Częstochowa, Szczecin, Zielona Góra).

There are two international airports in Wrocław and Katowice-Pyrzowice, both situated only 100 km from Opole. The nearest Polish-Czech border crossing is at Trzebina/Bartultovice, 56 km away. Other Polish-Czech border crossings are at Głucholazy/Mikulovice, Konradów/Zlote Hory (69 km), Pietrowice Glubczyckie/Krnov (82 km), and Paczków/Jawornik (88 km). The nearest border crossing to Germany is at Olszyna, 270 km from Opole.

Opole's five higher education institutions - Opole University, Opole University of Technology, Academy of Management and Administration and Public Higher Medical Professional School, The Bogdan Jański Academy, Opole Department - city's two research and development institutes and numerous secondary schools provide highly skilled professionals.

Together with the adjoining communes, Opole makes up a conurbation of 200,000 people, an absorbent market for goods and services.