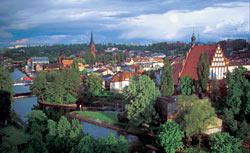 Bydgoszcz
Bydgoszcz, a modern city with a 660 years' tradition, it lies on two rivers, Brda and Vistula, and is the economic and cultural centre of the Kuyavia region.

Its interesting history is marked by numerous monuments, which can be found throughout the city. The most prominent of them include: the Main Parish Church, which is particularly close to the people of Bydgoszcz and features the miraculous painting of the Virgin Mary of Beautiful Love, the Royal Mint, the granaries, which have been considered the symbol of Bydgoszcz for years, historic lock chambers and waterways.

A fast-growing economic hub, Bydgoszcz appeals both to local businesses and foreign investors. The number of its firms and enterprises has been on a steady increase. A vast majority of them are private entities. The city's economic development is driven by its favourable location next to the crossing of important national roads, wide railway network that connects Bydgoszcz with Europe's most important centres, water transport possibilities thanks to the river port which dates back to medieval times and, most importantly, modern international airport.


Bydgoszcz is a city of young people, whom it attracts with high quality and multi-profile higher education that offers excellent academic facilities and resources. The city is home to four public higher education institutions, of which Kazimierz Wielki University and University of Technology and Agriculture are the biggest.

A key role in the city's active cultural life is played by: the Opera Nova House, the Pomeranian Philharmonic Hall, the Polish Theatre, the BWA Municipal Art Gallery, as well as museums and numerous clubs, cinemas and galleries.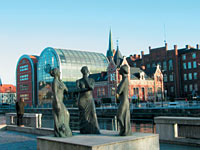 Bydgoszcz is also the City of Sport and the capital of Polish athletics. The Zawisza Stadium is the only athletic arena in Poland that meets the standards of the International Association of Athletics Federations (IAAF). Thus it can stage competitions which attract the best Polish and foreign athletes.

Both sportsmen and the inhabitants of Bydgoszcz may use the city's extensive sports infrastructure, which comprises: 7 stadiums, 6 canoe and sailing marinas, 4 rowing marinas, 4 sports & entertainment halls, a speedway track, karting track, archery field and regatta course.

Covering a few hundred hectares of land, the Forest Culture and Leisure Park in Myślęcinek is a favourite spot for the inhabitants of Bydgoszcz. In addition to numerous walking and cycling paths, it comprises the Polish Fauna Garden, Botanical Gardens, an equestrian centre and a funfair.